Rabbi Akiva Weiss hails from Margate City, NJ, where he grew up the son of a prominent Orthodox day-school educator, rabbi, and principal. He learned for several years in yeshivot in Israel post-high school including Reishit Yerushalayim, Yeshivat Kerem B'Yavneh, and Bar Ilan University, returning to the states to complete his BA and to receive semicha in Yeshiva University. After completing his BA he took a leave of absence to pursue his life's dream of serving in the IDF, enlisting and serving in the Givaati Brigade, where he served in Gaza for 10 months, receiving a distinguished service award from his unit.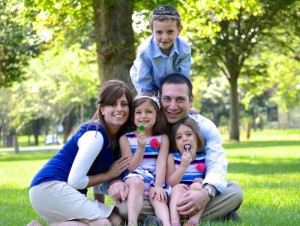 Upon returning to the states, he worked at the Bess and Paul Sigel Hebrew Academy as a Judaics teacher where he met his wife Nataly. He completed his semicha at Yeshivat Chovevei Torah Rabbinical School. Rabbi Akiva and Nataly worked for four years as the OU-JLIC couple at Rutgers University, giving pastoral and halachic guidance to both Orthodox and non-Orthodox students from all different backgrounds. In his position on campus he also served as Battalion Chaplain for the Rutgers ROTC Scarlet Knights Battalion and was the Orthodox member and liaison to the Rutgers University Interfaith Alliance, a group of university chaplains that advocates and aims to ensure the religious needs of all students of faith at Rutgers are respected and met by the university faculty and administration.
Rabbi Akiva, his wife Nataly, and their four kids; Ezra Ariel, Eliora, Elianna and Eytan are so excited to be with all the amazing students at Binghamton!